Kesh Lochan (Hair Plucking ceremony) - An extreme practice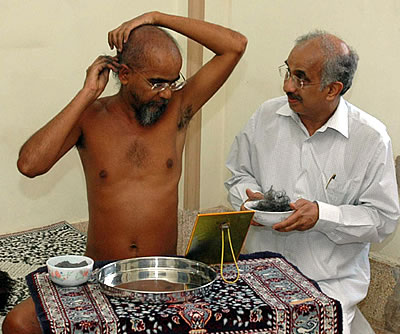 I want an excuse to this rule of Jainism. It should be really dropped from the list of 36 rules a monk in Jainism should follow. "Jainism" insists on "Ahimsa Paramo Dharama", the same religion does impose an extreme practice on its monk. The monk faces the terrible pain when each hair is being plucked from the scalp and face.

Is Ahimsa Paramo dharma ("Non violence is the supreme practice") not applicable to Human beings?

The Jain Sadhus and Sadhvis after receiving the Diksha (initiation), pluck their hair twice a year or at least once a year. They pluck their hair or they get the hair plucked by others. The hair on face and scalp are plucked. This is called Kesh-lochan or Loch. It is also considered as one kind of austerity where one bears the pain of plucking hair calmly.

This is done mostly in front of the lay-community. First they rub ashes on their head, then they pluck out the hair in bunches. In case a muni is too old or too weak for this, he asks somebody to pull out his hair. Nowadays these tasks are performed by the temple administrators with great pomp. The hair is collected in cups and is auctioned to devotees for high sums.

Why Keshlochan? Jain saints pluck their hair as a mark of renunciation of worldly pleasures during their Keshlochan ritual. Saints perform this ritual to motivate their followers to take the path of renunciation. Jains believe that plucking hair teaches them to endure pain. The saints, who perform the ritual, say, they want to motivate people to renounce worldly things. It can be done in private room, but it is done in public with the idea of motivating the people to take the path of renunciation.

Kesh-Lochan in Shwethamaba sect: According to the scriptures, on renouncing the world, Mahavira tore out his hair in five handfuls. Keeping this in mind, In the ascetic initiation carried out in swethamabars today, the hair is usually shaved off, apart from five small tufts that are removed by hand.

********************************************************
Kesh Lochan in Brahmins too!!!!!!!!!!!!!!!!!!!!!!!!!!!!!
********************************************************

Jainsim is considered as a non-vedic religion. For the same reason, Jainism is severally criticized by the Brahmin community.

It is difficult to believe that some of the extreme practices of Jainism are also copied into the Brahmin rituals.

According to the Vedas, The ultimate goal of a human being is to become Shankaracharya. Thus in the rule set that they define in the road to become Shankaracharya, they have considered "Keshlochan" and "Nudity" as two prime factors.

Upanayana (Sacred Thread wearing ceremony) is one of the auspicious part of a Brahmins life. A Brahmin undergoing upanayana should comes naked in front of his parents. Then the purohith (priest), plucks hair in 5 bunches from the Brahmins scalp. The remaining hair is shaved.

I wonder why this practice is followed in Brahmin community when they criticize Jains for adopting Nudity to attain salvation. Even some part of the Veda taunts the "Kesh Lochan" followed in Jainism.

Thefore, the approach to become Sankarachariar is quite contradictory and lacks honesty and courage of conviction. Is this a simple copy paste error ??????