Sant Tarunsagar's Amruth Pravachan at Mangalore


Mangalore (March 4th ):
Revolutionary Jain Muni Tarunsagar delivered two day discourse @ Karavalli, Utsav grounds, Mangalore. More than ten thousand devotees attended the "Amrutha Pravachan". Muni, who came to witness the Mastakabisheka @ Dharmasthala(Jan 28th – Feb 3rd) fell ill and was rushed to Mangalore for medical emergency. This is his first public discourse after recovering from poor health.

Poor health seems to have made no damage to the pitch of Tarunsagar. He did speak in the same phase at which "Tarun Express" usually goes.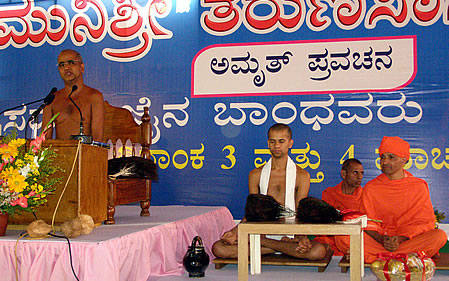 he Jain Muni emphasized on social transformation as a tool for global peace. "To live a happy and contended life one needs to strike a balance between good and bad, happy and sad occasion", he said.

"To savor the sweetness of happiness in life we should be ready to face the bitter hardships in life as well", said the Muni addressing the devotees who had gathered at the discourse meet.

Shree Charukeerthi Bhattaraka Panditacharyavarya Swamiji of Moodbidri Jain mutt blessed the event. D Harshendra Kumar of Dharmasthala, D Surendra Kumar of Dharmasthala, MLA K Abhayachandra Jain, RSS leader Dr Prabhakar Bhat, Yenepoya Group President Y Abdullah Kunhi, Former Union Minister Dhananjay Kumar were also present. K Suresh Balla welcomed the gathering